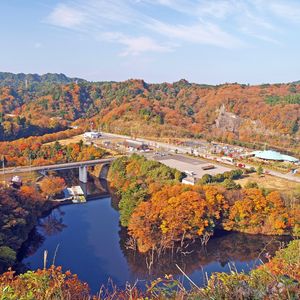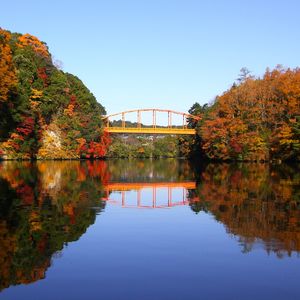 Kimitsu, City in Japan
General Information about Kimitsu
Kimitsu (Kimitsu) is a middle town within Chiba prefecture in the Kantō region.
You can easily reach the suburbs of Kimitsu by local rail services in 8 stations.
Travel tips for Kimitsu
Attractions
Top Kimitsu destinations for your sightseeing are the Shimizu mountain stream square (清水渓流広場) throughout the year, the 99-valleys observation park (九十九谷展望公園) throughout the year and the Kameyama lake (亀山湖) throughout the year.
The Kururi castle stands imposingly in the city, was built in the year 1978.
Culture and History
Cultural roots make Kimitsu tourism particularly attractive. National heritage respectively national treasure is Front gate of Jinya-temple on Mt. Kano (鹿野山神野寺 表門).
Fireworks
Do you want to see fireworks in Kimitsu? The Kameyama lake festival - Kimitsu citizen fireworks (亀山湖上祭・君津市民花火大会) with 5.000 rockets is popular. You can best watch from the Kameyama lake. Another fireworks is the Kimitsu autumn fireworks (きみつ秋花火). Have a good view from the Sadamoto.
Hot spring
If you want to take a hot bath in Kimitsu, the spa Kameyama Onsen (亀山温泉) brings you relaxation and is also good for Atopy. The address: Kameyama-chiku (亀山地区). Another hot spring here is Shichirigawa Onsen (七里川温泉), which helps amongst other things in Chronic skin disease. Go to Kiwadahata 921-1 (黄和田畑921-1) for this.
Souvenir
Do you already own a souvenir from Kimitsu? You could buy for example Koitozairai (soy beans), available in JA Mirai Obitsu.
Flowers and Foliage
Discover the cherry blossom in Kimitsu from 03/21 to 04/10, best in the Kururi castle (久留里城). The maple trees changing colour in Kimitsu is the highlight in the romantic autumn. Discover in the Kameyama lake (亀山湖), how the leaves turn from golden yellow to shining red. Start is around the 11/21 and the foliage lasts until 12/10.