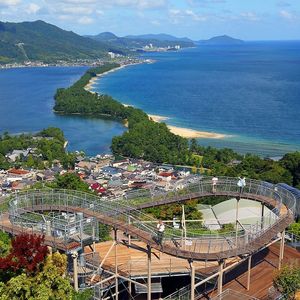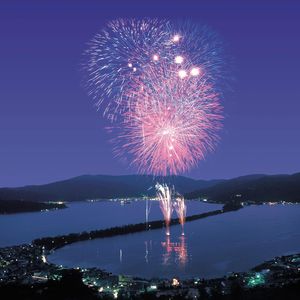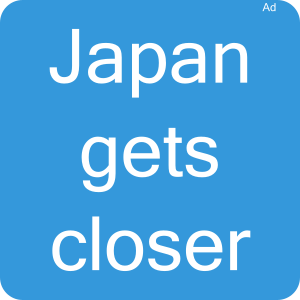 Miyazu, City in Japan
General Information about Miyazu
Miyazu (Miyazu) is a middle town within Kyoto prefecture in the Kinki region. Sister cities of Miyazu are Nelson in New Zealand and Delray Beach in the USA.
There is a fishing port in the city. You can easily reach the suburbs of Miyazu by local rail services in 8 stations.
Famous persons connected with Miyazu are Shigesaburo Maeo (1905 - 1981), Jiro Yano (1922 - 1987) and Osamu Hayaishi (1920 - 2015).
Travel tips for Miyazu
Attractions
Top Miyazu destinations for your sightseeing are the Amanohashidate Viewland (天橋立ビューランド) throughout the year, the Kasamatsu park (傘松公園) throughout the year and the Old Mikami house (旧三上家住宅) from 01/04 to 12/28.
The Miyazu castle is nowadays a ruin.
The Amanohashidate swimming beach (天橋立海水浴場), another great attraction where you can experience Sea bathing in the scenic spot of white sand and green pine trees (白砂青松の景勝地で海水浴). Go to Amanohashidate (天橋立) for this. Another experience is the Shimazaki park (島崎公園) in Shimazaki (島崎). Of interest here is the approx. 10.000 red-white lanterns on August 16 every year (毎年8月16日に約1万個の紅白灯ろう).
Culture and History
Cultural roots make Miyazu tourism particularly attractive. National heritage respectively national treasure are Amanohashidate (天橋立) and the Old Mikami house (旧三上家住宅).
The oldest building in the city was constructed in the year 1501 and is named Chion-temple two-storied pagoda (智恩寺 多宝塔).
Fireworks
Do you want to see fireworks in Miyazu? The Miyazu lantern floating fireworks (宮津燈籠流し花火大会) with 3.000 rockets is popular. You can best watch from Miyazu bay. Another fireworks is the Three most scenic spots in Japan - Amanohashidate winter fireworks (日本三景天橋立ふゆ花火) with 2.000 rockets. Have a good view from Aso sea (Fuchu side).
Hot spring
If you want to take a hot bath in Miyazu, the spa Miyazu Onsen Pinto-bath (宮津温泉ピント湯) brings you relaxation and is also good for Diabetes. The address: Shimasaki (島崎). Another hot spring here is Amanohashidate (天橋立温泉), which helps amongst other things in Frozen shoulder. Go to Monju 309-1 (文珠309-1) for this.
Gourmet
You want to eat well and enjoy a drink in Miyazu? Curry fried noodles (カレー焼きそば) is recommended by locals. Another recommendation for gourmets: Yellowtail shabu (鰤しゃぶ).
Souvenir
Do you already own a souvenir from Miyazu? You could buy for example Oiled sardines, available in Shinai no suupaa.
Flowers and Foliage
Discover the cherry blossom in Miyazu from 04/01 to 04/20, best in the Ganko cherry-tree of Sanno-gu Hiyoshi-shrine (山王宮日吉神社の含紅桜). The maple trees changing colour in Miyazu is the highlight in the romantic autumn. Discover in the Nariai temple (成相寺), how the leaves turn from golden yellow to shining red. Start is around the 10/21 and the foliage lasts until 11/10. To mention in Miyazu is the Three leaf azalea in flower, which you can see in the Shiizaki Inari-shrine (獅子崎稲荷神社) from 04/11 to 05/10.
Economy and Industry in Miyazu
Successful Companies
A functioning local economy can set many impulses for the region. Particularly encouraging is the fact that Nippon Yakin Kogyo Co., Ltd., DAIWARESORT CO., LTD. and GUNZE LIMITED belong to the top companies in Miyazu. Nippon Yakin Kogyo Co., Ltd. is in the field of Iron and steel, DAIWARESORT CO., LTD. in the sector Hotels and GUNZE LIMITED active in the area of Textile goods.
For Investors
Are you an investor and are you looking for grants and promotion schemes for companies in Miyazu? Do not hesitate to contact the city officials, because in the business field of Bamboo-related companies, industry-backing may be granted.
Grants
In particular, the city wants foreign companies to invest in the sector Bamboo-related companies here.
Further Industry
Of further importance for Miyazu is SUNCALL CORPORATION in the district Satohami, as Demonstration of continuous carbonization devices is offered here.